Looking for the best way to keep your tackle organized and ready to use? Find the answers to common tackle storage system questions here, or use the contact form below to ask your own.
Questions
What's the difference between tackle storage and tackle management?
There is a huge difference between tackle storage in your boat and tackle management in your boat. Tackle storage helps the fishermen locate their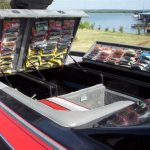 baits and this will help the fisherman be better organized but does very little for reducing their downtime on the water. Tackle management not only helps the fisherman to locate their baits but will allow the fisherman to retrieve the bait quick (which greatly decreases the downtime on the water) when  changing baits. The key to reducing downtime on the water is in the retrieve. (How fast can you retrieve the bait) Easy View Tackle is the only tackle management system on the market for boats that can reduce the hunting and retrieving baits. To see more in detail on this subject check out the  video on our blog page.
How does the Easy View Tackle System differ from traditional tackle storage boxes?
Easy View Tackle system is designed to mount under the lids in your boat making it easy to find and retrieve your baits. The system eliminates digging through storage boxes and bags greatly decreases the downtime on the water when trying to find that bait you know is in there somewhere.
Does the Easy View Tackle System require a specific size or type of boat?
No, the Easy View Tackle System is very adaptable and can be used in almost any boat. The system mounts easily using either screws or adhesive.
Is it better to store plastics in their original bags?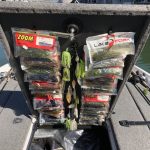 Yes! Most baits you buy these days are salt impregnated and scented so it is very important you keep them in the original bag they came in to maintain their freshness. Easy View Tackle System is designed to use the factory bags the baits come in.
Do you have tackle storage system questions? Ask them here or visit us on Facebook.